Home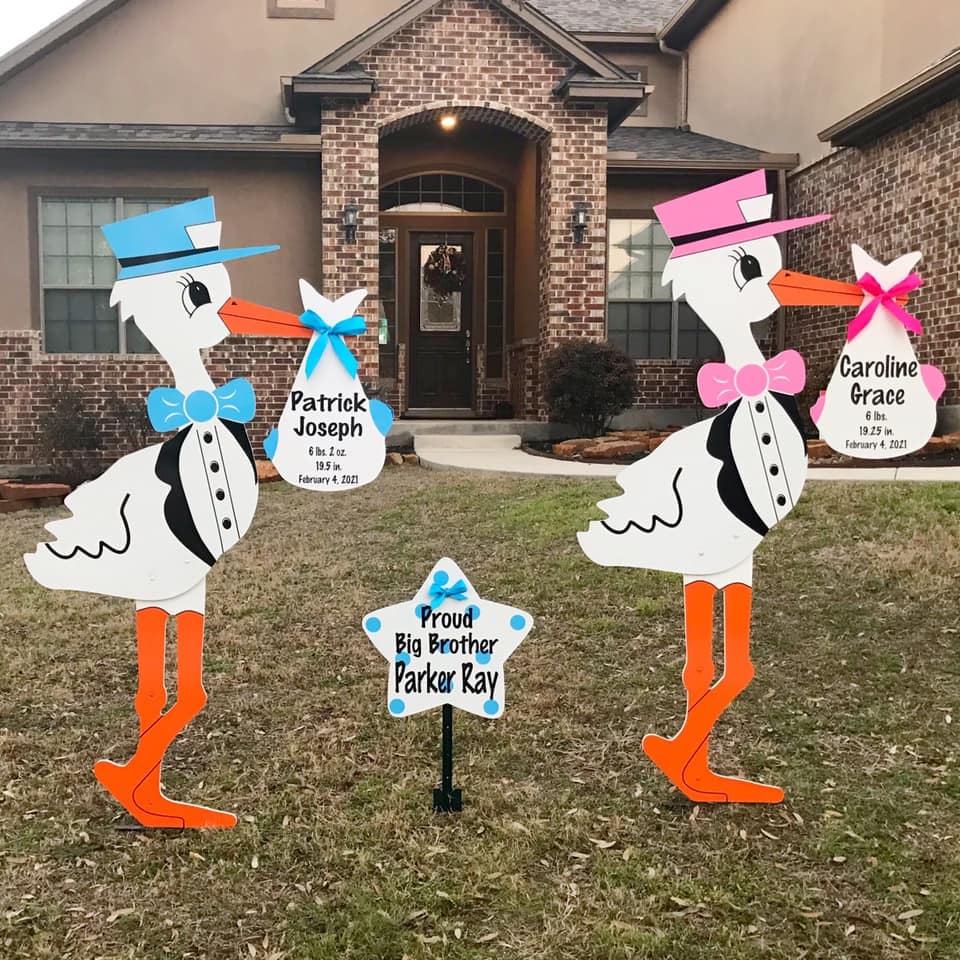 The finest 6-ft Stork Signs for rent in Turlock, CA.
Turlock Storks and More delivers unique 6-ft stork signs for your front yard to welcome your new baby home. It is the most special way to announce to your friends and neighbors that your newest member of the family has arrived. Our lawn signs will surely be the talk of the neighborhood for months. Each stork yard sign comes with a personalized bundle with the baby's name, date of birth, height, and weight. At the end of the rental period, the stork is picked up but the bundle is left behind as a keepsake for families. The bundle can be used to decorate the nursery or as a door hanger.
While children are like rainbows, grandchildren are like a pot of gold.
Grandparents are the happiest people when their grandbabies arrive. They want to share this happiness with their friends and family. A Stork Sign with the bundle announcing their new grandkids is a perfect way to do that. We feel honored to help grandparents celebrate this happy occasion with our birth announcement signs.
Are siblings and other family members feeling left out?
Don't worry. We got them covered with our special star signs and pet signs. Older siblings don't want to feel left out on this big day. A sibling star sign proclaiming 'Big Brother' or 'Big Sister' personalized with their names is a great way to make the older siblings feel included. Pets are family members and can have their own Dog Bone or Cat Sign personalized with their names. These signs are left behind at the end of the rental period. Proud siblings can display them later on their doors.
Hosting a Gender Reveal, Baby Shower, or Gender Reveal?
Finding your party house will be easier with our fun stork sign. A Stork Sign with a bundle saying 'Baby Shower here' is the best way to catch the attention of party guests and help them figure out where to go. This sign surely won't be missed and certainly be a wonderful way to welcome guests. We also carry stands for indoor events
We proudly serve Turlock, Hughson, Denair, Modesto, Ceres, Merced, and Hilmar in Stanislaus and Merced Counties.